Tours Val de Loire Airport Departures (TUF)
Not all flights may be showing. If not available use search above to find your flight by airline, airport or flight number.
Destination
Airline
Flight no.
Scheduled
Est./Actual
Status
No flight departures were found at Tours Val de Loire Airport.

Flight Departures at Tours Val de Loire Airport
Tours Val de Loire Airport is a small airport serving mostly low-budget airlines and charter flights. Airports of this size rarely have much to offer in terms of services, shops and places to and drink and this airport is no different. There are however a few things that are good to know.
Transfers at Tours Val de Loire Airport
Rental Cars – The car rental companies at Tours Airport are housed in a separate facility located next to the airport terminal on the long-term lot. Unless otherwise informed by the car rental company vehicles are returned to the long-term lot and the office in the facility. Remember to collect all personal belongings from the vehicle before returning it.
Buses – There are no buses going all the way to the airport, but Fil Bleu's line 02 stops in Vaucanson approximately a 10 minute walk from the airport terminal, across D801.
Several bus stations, served by various bus companies, can be found in Tours. More information about bus services in Tours.
Taxis – Taking the taxi to the airport is probably the easiest way to transfer there. Taxis can be found in all areas either through ordering it via a phone call or grabbing one at one of the squares or train stations around the city. Travel time will vary depending on the origin of the journey, but the journey time between the city center and the airport is approximately 15 minutes and it will cost around €20-25. More information about taxis to and from Tours Airport.
Trains – The airport does not have a train station and there is no tramway stop there either. The closest tramway stop is located around 1 km/0.6 mi from the airport terminal and it is possible to walk from the tram stop to the airport in approximately 10-15 minutes.
Tours has several train stations connecting the town with various parts of France and other countries.
Shuttles – Shuttles might be provided by some hotels as a service for their guests, additional fees may apply, or they can be privately arranged by the traveler or their representative.
Smoking at Tours Val de Loire Airport
It is prohibited to smoke inside the airport's facilities according to the law.
Passengers with Reduced Mobility at Tours Val De Loire Airport
Tours Val de Loire Airport has applied European regulation #1107/2006 CE concerning the rights of disabled people and people with reduced mobility when traveling by plane ever since July 26 of 2008. What this means is that the airport guarantees for all passengers to be met with respect, courtesy and professionalism upon arriving at the airport and that reliable, comfortable and adapted equipment is available.
Requests for assistance should be made through the airline or charter flight company at least 48 hours ahead of the departure time of the flight in question. Travelers that have not requested assistance at least 48 hours ahead of departure will still be assisted, but they will generally have to wait for longer before their assistance is available. This means that the waiting time might be up to 25 minutes.
Check-in at Tours Val de Loire Airport
It is recommended that travelers arrive at the airport 2 hours before scheduled departure. Check-in is made online at the latest 2 hours before departure, and the boarding pass has to be printed.
Lost and Found at Tours Val de Loire Airport
When an item has been lost, whether it's a bag on the arriving flight or something lost at the airport, a claim can be made at the airport's information desk or through a phone call to +33 2 47 49 37 00.
Was your flight delayed or cancelled?
You may be eligible to receive up to 600 EUR compensation per person in your party..
Claim Now!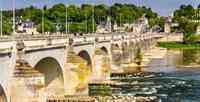 Tips for tourists and business travelers renting and driving a car in Tours, France