Tours Val de Loire Airport Parking
Unbeatable Value Airport Parking
Compare Parking Prices at Tours Val de Loire Airport
checkBest price guarantee
checkCompare all parking operators
checkOver 4 million happy customers
checkOptions for all budgets
checkFree no-hassle cancellations


Useful information about airport parking at Tours Val de Loire Airport
Tours Val de Loire Airport is located approximately 5-6 km from the center of the charming city of Tours, France. The drive from central Tours to Tours Val de Loire Airport is approximately 15 minutes.
On-Airport Parking at Tours Val de Loire Airport
The airport has 400 parking spaces, all open air, divided into two separate parking lots. One of the lots is for short-term parking and the other is for long-term parking. The short-term lot is smaller and located in front of the terminal and should be mainly used for parking a few hours or a couple of days at the most. The long-term lot is located further from the terminal and free shuttles are offered to travelers parking there.
All parking spaces are free to use on a first come, first serve basis. The parking lots are not monitored and secure and the airport is not responsible for any thefts or damage that happens while parked in any of these two lots.
The address for the airport is:
Tours Val de Loire Airport
40 Rue de l'Aéroport
37100 Tours
France
Off-Airport Parking at Tours Val de Loire Airport
Off-Airport parking is offered only 200 m/650 ft from the airport's terminal by a private owner. Charges are applicable for this parking.
The car park is secure with hedges surrounding in and a protected entry and exit gate, and has been resurfaced recently.
Parking Operators at Tours Val de Loire Airport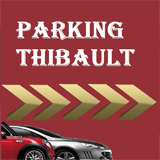 place
11 rue de l'Aéroport37100 Tours 37100 | Show on Map
Car Parks at Tours Val de Loire Airport
| Name | Address | Opening Hours | On Airport Grounds | |
| --- | --- | --- | --- | --- |
| Effia | 201 Rue du Colombier, 37100 Tours, France | Mon-Sun: 00:00 - 24:00 | close | |
| Citroen Tours Nord Chrono Service | 20 Avenue Gustave Eiffel, 37100 Tours, France | - | close | |
| L'Arche de Tours Nord | 26 Rue Georges Méliès, 37100 Tours, France | Mon, Tue: 07:00 - 24:00 Wed, Thu: 07:00 - 23:00 Sun: 09:00 - 23:00 | close | |
| Quai de Marmoutier | 37100 Tours, France | - | close | |
| Tours-Parking | Rue de l'Aéroport, 37100 Tours, France | - | done | |
| Tram Mayer | 37100 Tours, France | - | close | |
| Marché du Maine | 29 Rue du Hainaut, 37100 Tours, France | Mon-Sun: 00:00 - 24:00 | close | |
| Tours-Parking | 37100 Tours, France | - | close | |
| P+R Vaucanson | 178 Rue du Colombier, 37100 Tours, France | - | close | |
| De la Mairie | Rue de la Mairie, 37210 Parçay-Meslay, France | - | close | |
| Ciné Loire | 201 Rue du Colombier, 37100 Tours, France | - | close | |
| B&B Hôtel | 311 Avenue André Maginot, 37100 Tours, France | Mon-Sun: 00:00 - 24:00 | close | |
| Marché du Beffroi | Rue d'Armentières, 37100 Tours, France | Mon-Sun: 00:00 - 24:00 | close | |
| François Mitterrand | Esplanade 37100 Tours, France | - | close | |
| Tram Vaucanson | 37100 Tours, France | - | close | |
| Université de Tours - Iut Tours - Site Jean Luthier | 29 Rue du Pont Volant, 37100 Tours, France | Mon-Sun: 00:00 - 24:00 | close | |
| Place Pierre Gandet | Rue Daniel Mayer, 37100 Tours, France | Mon-Sun: 00:00 - 24:00 | close | |
| Hôpital de l'Ermitage | 2 Allée Gaston Pages, 37100 Tours, France | Mon-Sun: 00:00 - 24:00 | close | |
| Parking Thibault | Rue de l'Aéroport, 37100 Tours, France | - | close | |
| Automatique Auto | 37210 Parçay-Meslay, France | - | close | |
Map of Car Parks at Tours Val de Loire Airport Frequently Asked Questions - Tours Val de Loire Airport Parking
{"@context":"https://schema.org","@type":"ParkingFacility","name":"Parking Thibault Tours","address":"11 rue de l\u0027Aéroport37100 Tours 37100","geo":{"@type":"GeoCoordinates","latitude":47.42501,"longitude":0.714111},"openingHours":"Mo-Su"}