Renting A Car In Tours
Tips for Tourists and Business Travelers Renting a Car in Tours, France
Welcome to Tours Val de Loire Airport, the gateway to one of the most picturesque regions in France. Whether you're here for business or pleasure, renting a car in Tours can be an excellent way to explore this beautiful area. But with so many car rental companies and options available, it can take time to figure out where to start.
That's why we've compiled these helpful tips for tourists and business travelers looking to rent a car in Tours, France. From choosing the right company, navigating local driving laws, and avoiding fees and charges, we've got you covered.
Choosing the Right Car Rental Company in Tours
One way to narrow down your choices is by considering the location of the rental office. Suppose you're arriving at Tours Val de Loire Airport. In that case, choosing a company with an office on-site is usually more convenient.
Another important factor to consider is the type of vehicle you need. Are you traveling alone or with a group? Will you be driving long distances or sticking close to town? Make sure to select a car that suits your needs and budget.
You should also check online reviews and customer feedback before making your decision. This can give you an idea about the level of service different companies offer and help you avoid scams or hidden fees.
Ensure the company offers comprehensive insurance coverage and has clear terms and conditions for their rental agreement. A reputable car rental company will have transparent policies in place so there are no surprises when it comes time to return the vehicle.
To compare prices or book a rental vehicle, see detailed information about car rental services in Tours.
Car Rental Options in Tours
Several car rental options exist when arriving at the Tours Val de Loire Airport. Travelers can rent a vehicle from well-known brands such as Avis, Europcar, and Enterprise. Most companies offer various vehicles, from compact cars to luxury vehicles.
Tourists and business travelers can choose a vehicle that suits their needs depending on the number of passengers and the amount of luggage they have. One advantage of renting a car in Tours is that it saves time since one does not have to travel offsite searching for rental agencies.
Most rentals come with unlimited mileage meaning one can drive without worrying about accruing additional fees or charges. It's worth noting that booking in advance usually leads to lower prices than booking upon arrival.
Driving Directions from Tours Val de Loire Airport
Remember that traffic may be congested during peak hours, so allow extra time for delays. Additionally, always obey speed limits and watch out for pedestrians, as they have priority on zebra crossings.
When leaving the airport, follow signs for "Centre-Ville" or "Tours Centre." This will lead you onto Avenue André Maginot.
Stay in the left-hand lane as you approach the Place Choiseul roundabout and take the third exit onto Rue Nationale. Keep going until you reach Boulevard Béranger, where you must turn right.
Continue along this road until reaching Pont Wilson bridge, where again, stay in the right-hand lane and cross over. Then take a left down Quai Paul Bert, which runs alongside River Loire.
Drive under the Pont Mirabeau bridge and continue straight ahead before taking another left into Rue des Frères Renault, which leads directly into Tours city center.
Benefits of Renting a Car in Tours
One of the primary advantages of renting a car is convenience. You won't have to worry about carrying heavy bags on buses or trains because you can store them in your rental car's trunk. If you're traveling with family or friends, a rental car can provide more space for everyone compared to taking taxis or buses.
Another benefit is flexibility. With a rental car, you have complete control over where and when you go places during your trip. If an attraction is off the beaten path, it's fine - hop in your rental and head out. It also offers cost savings over other modes of transportation, such as taxis or ride-sharing services.
What are the terms and conditions of the rental car agreement in Tours?
Before signing any agreement with a car rental company, customers should thoroughly review all terms and conditions. It's crucial to ask questions about anything unclear or unreasonable before committing to a contract.
Most car rental companies require drivers to be at least 21 years old and have held their driver's license for at least one year. Some companies may also require an international driving permit.
Customers must return the vehicle on time in the same condition as when they received it. Any delays or damages will result in additional charges clearly outlined in the agreement.
You should be aware of any restrictions on where they can drive the rented vehicle. Most rental agreements prohibit driving off-road or outside of France without prior permission from the company.
Customers are responsible for paying all tolls and fines incurred during their rental period. Failure to pay these fees can result in additional charges added to their credit card.
What documents are needed before a foreigner can rent a car in Tours?
A valid credit card in your name and a minimum age of 21 or 25 (depending on the rental service) is required to rent a car in France. Ensure you understand their deposit and refund policies before signing any agreements.
Depending on the rental company, you should have had your license for at least a year before applying. Before making a reservation, it's a good idea to double-check the rental agency's policies.
Although an International Driving Permit (IDP) is not required by law in France, it is strongly recommended. Suppose the renter's license is written in a non-Roman alphabet language (such as Arabic, Greek, Russian, or Chinese). In that case, they will need to provide an IDP. Learn more on how to obtain an International Driving Permit for driving in Italy.
You'll also need your passport for identification purposes and proof of insurance coverage, depending on whether it's included in the rental agreement.
Remember that all documentation must be valid throughout your trip and beyond, depending on the length of stay approved by immigration authorities.
What payment methods are available for international customers?
Most car rental companies accept major credit cards such as Visa and Mastercard. However, some smaller companies may only accept cash payments or require deposits.
Before making your reservation, check the payment policy of each company you're considering. Some may require full payment upfront, while others may allow you to pay at pickup time.
It's also important to note that currency exchange rates can vary depending on where you're from and which card issuer you use. Be sure to ask about any potential fees or charges for using your credit card abroad.
If you prefer not to use a credit card, consider using a debit card instead. Just ensure sufficient funds are in your account before renting the car.
It's always recommended that you confirm accepted forms of payment with the specific rental agency before booking so that there will be no surprises when picking up your vehicle.
Tips for Avoiding Rental Car Fees and Charges in Tours
Be sure to read the rental agreement carefully before signing. This will help you understand any additional fees that may apply.
Return the car on time. Late returns can result in extra charges per day or even an additional full day of rental.
Please pay attention to fuel policies as they vary from company to company. Some companies require you to return the car with a full tank, while others charge for refueling.
Inspect the vehicle thoroughly before driving off. Please take photos of any damages and report them immediately so you're not charged later.
Avoid adding unnecessary extras such as GPS devices or insurance options you don't need.
Drive responsibly and avoid traffic violations, as these come with hefty fines that will be added to your bill at the end of your rental period.
Frequently Asked Questions when Renting a Car in Tours
In France, drive on the right side of the road. You should always park their cars facing forward and follow any posted signage regarding parking restrictions.
For those driving for the first time in France, it is advisable to be extra cautious. Familiarize yourself with French traffic signs and adhere to speed limits, as they can change abruptly.
If you get pulled over by cops due to a traffic violation or are involved in an accident while driving your rental car, remember that it's crucial to stay calm and cooperate with authorities.
If your rental car breaks down during your trip, inform your car rental company immediately so they can arrange assistance. It is also important to consult them before attempting any repairs, as doing so could void your insurance coverage.
Foreigners should know that other transport options, such as public transportation like buses or trains, are available. However, car renting provides greater flexibility when exploring tourist attractions outside city centers.
What are the rules for parking and driving in Tours?
There are different zones with specific time limits and fees, with the most common zones being blue and green. Blue is usually for short-term parking with a maximum of two hours, while green is reserved for long-term parking. Check the signposts near your desired spot as they indicate which zone you're in.
Another essential rule when driving in Tours is that overtaking on the right lane is prohibited. This means that if you want to pass another vehicle, always do so on the left side of the road. Keep an eye out for pedestrians crossing at designated areas, too, as they have priority over vehicles.
It's also worth noting that using mobile phones while driving is illegal unless hands-free equipment is installed in your car. Always buckle up as well since seatbelts are mandatory for all passengers. Ensure not to park or drive on bike lanes or pedestrian walkways unless explicitly permitted by signs or markings on the ground. Doing so could result in a hefty fine.
For reliable parking options, please see available parking locations in Tours.
What should a foreigner do when driving in Tours for the first time?
Speed limits are enforced rigorously in France. Stick to them at all times to avoid hefty fines or worse consequences:
50 km/h (31 mph) for cities and villages, 80 km/h for main roads outside settlements, 130 km/h for highways, and 110 km/h if raining on highways.
Familiarize yourself with French traffic laws and signs before getting behind the wheel. This will help you avoid confusion or accidents while navigating unfamiliar roads.
Make sure you have all necessary documents, such as a valid driver's license and proof of insurance, readily available in case they are requested by law enforcement officers.
Practice slowly in low-traffic areas until you feel comfortable enough to venture into busier streets.
Consider renting a GPS device or downloading a navigation app onto your smartphone to ensure accurate directions and avoid getting lost.
What should you do if the cops pull you in for a traffic violation?
If you do happen to get stopped for a traffic violation while renting a car in Tours, France, there are certain steps you should follow to ensure that the situation doesn't escalate.
Remain calm and polite. Don't argue or become aggressive with the officer, as this could worsen matters. Instead, listen carefully to what they say and try to understand why you were stopped.
If there is a language barrier between you and the officer, don't panic. You can ask them if they speak English or use simple phrases such as "I'm sorry" and "Yes, sir/ma'am" to show that you are cooperative.
Be prepared to present your driver's license, rental agreement, and passport (if required). Ensure all these documents are up-to-date and easily accessible so you don't waste time
If the police issue you a fine or ticket, pay it promptly. Ignoring it could result in further legal action against you, ruining your vacation plans.
What if the car breaks down during the rental period?
It's always a possibility that your rental car may break down during your trip. In the unfortunate event that this happens, there are certain steps you need to take to ensure a smooth resolution.
Contact the car rental company immediately and inform them of the situation. They will advise you on what to do next, including contacting emergency services or arranging a replacement vehicle.
If safe, move the vehicle off the road and turn on the hazard lights. Never attempt any repairs yourself, as this can void insurance coverage.
Document any damage or issues with the vehicle before it broke down. This will help avoid disputes over responsibility for damages when returning the car.
Ensure that you have all necessary documentation with you in case of inspection by authorities or law enforcement officers.
Be prepared for potential delays in your travel plans due to unexpected breakdowns. It's always wise to plan ahead and have alternative transportation options available.
What to do if you're involved in a traffic accident?
Remember that accidents happen even when we try our best to avoid them. Stay calm and follow these steps carefully to continue enjoying your travels through Tours without too much disruption caused by unforeseen events like this one.
Ensure everyone involved is safe and call for medical assistance immediately. Once safety is ensured, contact the local police to report the accident and obtain an official police report.
Exchange information with other drivers, such as names, phone numbers, addresses, license plate numbers, and insurance details. You should also take photos of the accident scene, including damage to all vehicles involved.
Contact your rental car company as soon as possible to inform them about the incident and follow their instructions regarding further actions. Remember to keep all necessary documentation related to the accident, such as receipts for repairs or medical bills.
What other transport options are available in Tours?
Public transportation is one of the most popular ways to get around the region with an extensive bus network that covers all major areas and attractions.
Bus tickets can be purchased at kiosks or on board and are relatively inexpensive.
Another great way to explore Tours is by bike. Many bike rental companies offer affordable rates. Touraine's flat terrain makes it easy for even novice cyclists to navigate the city's roads and alleys.
For those who prefer a more unique experience, consider riding in one of the traditional horse-drawn carriages that roam around the historic quarters of Old Tours. This is a charming way to take in some sights while enjoying an old-fashioned mode of transport.
Taxi services are widely available throughout Tours if you need a quick ride or have heavy luggage. You can either hail them on the street or book them in advance through their mobile apps.
Discover the various transportation alternatives in Tours, including bus, train, and taxi services.
What must-see attractions I can visit using a rental car in Tours?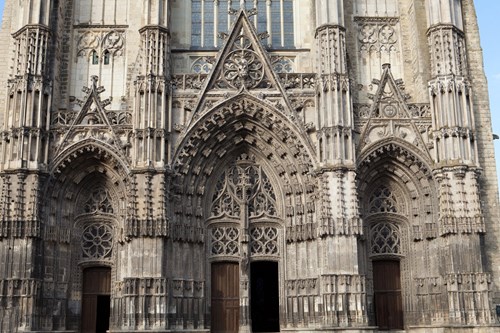 Tours, France, is a city steeped in history and culture. One of the must-see attractions is the Château de Villandry, with its stunning gardens considered among the most beautiful in Europe.
Another attraction worth noting is the Cathédrale Saint-Gatien, which boasts impressive Gothic architecture and houses some of France's most significant religious artifacts.
For those interested in art, the Musée des Beaux-Arts de Tours features works from famous European artists such as Rubens and Rembrandt.
If you're looking to experience French cuisine at its finest, head over to Les Halles de Tours, where you can indulge in local delicacies like cheese and wine or fresh seafood.
Take a stroll through Place Plumereau – a picturesque square lined with restaurants and cafes that offer outdoor seating perfect for people-watching while enjoying a drink or meal.
Delve into the best tourist attractions that Tours has to offer and make the most of your travel experience. See more best tourism offerings in Tours.
What types of accommodation are available in Tours?
Tours, France offers a range of hotel and accommodation prices to suit all budgets. For budget-friendly options, there are several 2-star hotels in the city center with rooms starting at around 50 Euros per night.
Those looking for extra amenities can find 3-star hotels from 70 Euros up to 140 Euros per night. For those wanting something more luxurious, 4 and 5-star properties start from 130 Euros and go up to 300 Euros or more depending on the seasonality and location within the city.
To experience comfort and luxury at its finest as you explore the best lodgings in this charming city, see available finest accommodations in Tours. 
UNBEATABLE VALUE CAR RENTAL

FREE
Amendments,
FREE
Cancellations,
NO
card fees!

airport_shuttle Need Airport Transfers?
Useful Information about Tours Val de Loire Airport